Trade In Your Vehicle with a Chevy Dealer near Fargo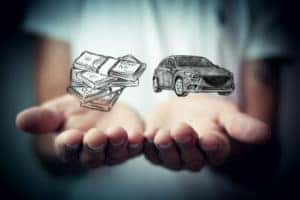 Are you on the search for a Chevy dealer near Fargo with the tools you need to trade in your current vehicle for the next great ride? Nereson Chevrolet in Detroit Lakes has you covered. Not only can you trade in, but you'll be able to trade up, so you can find the perfect Chevy car, truck, or SUV for all of your driving and lifestyle needs.
How Can I Trade Up When I Trade In?
There are many benefits to trading in your vehicle, rather than selling it—including the ability to trade up to a new model that's even better than the last.
To start, when you trade in a car, you can save a lot of money. That ensures capital for a more equipped and luxurious or powerful vehicle.
The trade-in value of your vehicle means you won't have to worry about down payment costs and that your monthly costs will be lower as well. Lower down payments allow you to pay off your new Chevrolet Equinox or Malibu more quickly, so you can save on accumulating interest.
You'll also save on sales tax, which can put hundreds or thousands of dollars in your pocket for a new ride. And if you're just waiting for your current loan to be paid off, you can upgrade today by trading in. The dealership will pay off the loan and you can focus on car shopping.
We carry a wide range of new and pre-owned vehicles here at Nereson Chevrolet, so trading up to your next model is easy. We also offer personalized financing tools like a payment calculator and vehicle trade-in estimator. And you can trust Chevrolet service at Nereson Chevrolet to ensure your trade-up pick remains safe and comfortable for years to come.
Value your trade-in right here on our website or visit Nereson Chevrolet in Detroit Lakes to get started on the trade-in process today.